December 1, 2022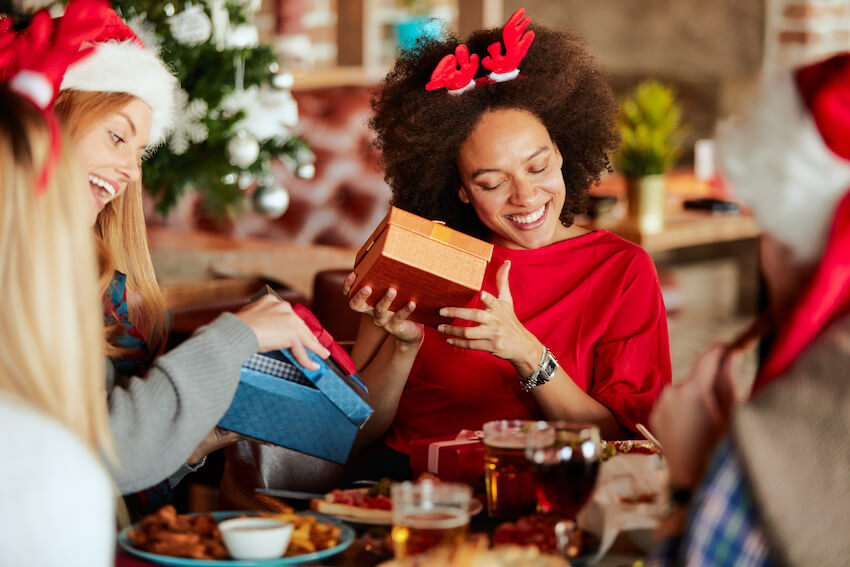 The holidays are almost here, which means it's time to start planning your holiday cards and gifts. With the cost of everything rising and a move towards more eco-friendly practices, a gift exchange makes perfect sense. Instead of buying a gift for each of your loved ones or friends, everyone will exchange one present with one other person. This way, you can swap thoughtful gifts with one another without breaking the bank — making this an affordable and fun tradition.
If you're looking for gift exchange ideas, you're in the right place. Discover some of the best reasons to introduce a holiday gift exchange this year, as well as some of our favorite gift exchange ideas. Plus, we'll share some fun invitation designs so you can let everyone know your plans. 

Great Reasons to Host a Holiday Gift Exchange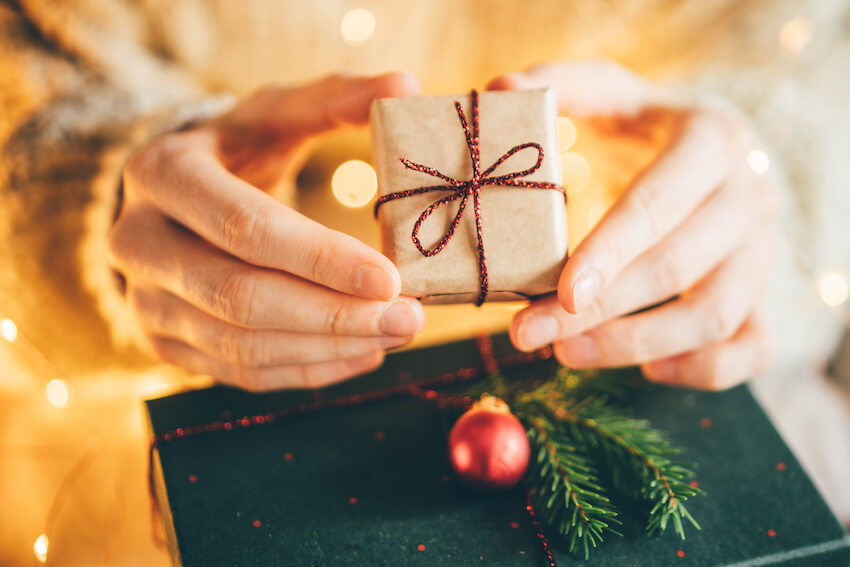 Whether you're hosting a big family Christmas party or something for the office, a gift exchange is a great idea. Here are some of the best reasons to cut down your gift-giving list and opt for a fun exchange instead. 
It's Affordable
The holiday season is expensive, and a major part of that is gift giving. We all want to buy gifts for our loved ones, but that can put extra pressure on our finances. Choosing a gift exchange instead means you're only buying for one person, and with a set price limit, you can choose a thoughtful gift and feel good about your budget. 
It's Eco-Friendly
Buying only one or a handful of gifts instead of many isn't just good for your bank balance but also the environment. Giving fewer gifts cuts down on waste, and choosing eco-friendly exchanges like a "favorite things" theme or only exchanging handmade gifts can make an even bigger impact. 
You can also send online invitations to spread the word about your exchange or holiday party plans, which will avoid paper waste and the carbon emissions of shipping. And if you choose Greenvelope for your party invites, a percentage of your purchase will be donated to a forest sustainability nonprofit.
It's Fun
Gift exchanges add an extra element of fun to the proceedings. Whether you're playing a game of musical chairs to decide who gets first pick of the gifts or opening your gifts from afar during a virtual event, it makes gift giving feel like a joyful experience. 
18 Holiday Gift Exchange Ideas to Try
Once you've decided to make the switch to a gift exchange, the fun part begins — choosing which type of exchange to host. There's something for every group, from fun party games to thoughtful DIY projects. Explore these gift exchange ideas to find one that fits your plans. 
1. Holiday Ornament Exchange
With this fun gift exchange idea, you'll unwrap a beautiful new ornament for your Christmas tree and give a loved one something new for theirs too. This is a great way to build your ornament collection with meaningful pieces — perfect for friends and family members who love a tree filled with memories.
2. Handmade Gift Exchange
A handmade present by someone who cares about you is often the best gift to receive. Create a heartwarming gift exchange moment by pairing people up to create, wrap, and give gifts they've made by hand. This works well if you're a particularly crafty group, but things like baking cookies, personalizing a photo frame, and making a scrapbook are great ideas if you're not a fan of knitting or pottery. 
3. Themed Gift Exchange
A themed gift exchange is a wonderful way to make your gift giving feel special. Set a theme for the type of gifts, like gift cards, musical gifts, or board games. You can also go with a playful theme like retro, foodie, or pastel. 
4. White Elephant Gift Exchange
For something classic, try the white elephant or Yankee swap gift exchange. Everyone brings a wrapped gift, and you then draw numbers out of a hat to decide the gift-giving order. After the first person chooses and opens a gift, the person next in order can either steal that gift or open the next one. This is a fun game to play with friends or family members and a fun addition to a holiday party. 
5. Holiday Cookie Swap
Cookies are always delicious, and holiday cookies are even more so. Encourage your friend group to exchange baked goodies this year instead of holiday gifts for an affordable and tasty way to celebrate the season. 
6. Musical Chairs
Turn this classic party game into a Christmas game with the addition of gifts. Keep moving as the music plays but find a seat when the music stops. The last person standing gets the first pick of the pile of gifts. This is a fast-paced gift exchange game that works well for kids and fun-loving friends. 
7. Craft Challenge Gift Exchange
If your friend group loves crafting and DIY — or at least enjoys laughing at their attempts — this is a great gift exchange idea. Set a challenge, hand out materials, and see who can come up with the best (or funniest) gift for someone else in the group. 
8. Holiday Gift Basket
Instead of buying multiple gifts for every family member and friend this year, send a holiday gift basket to one individual or group. Find a lovely box or basket and then fill it with goodies like food, beverages, skincare, candy, and stationery. What's great about a holiday gift basket is you can tailor the contents to your recipient and your budget, so it always feels meaningful. 
9. Secret Santa Gift Exchange
Secret Santa is another popular gift exchange idea. Draw names from a hat to decide who everyone's gift recipient is, then buy something thoughtful for that person. Set a spending limit to keep things simple. You can decide whether to reveal the gift giver or make people guess when the gifts are unwrapped. 
10. Favorite Things Party
If you're looking for a fun way to regift things you've personally enjoyed, a favorite things party is perfect. Wrap and bring a handful of your favorite things under $10, and leave with someone else's favorite things. Great gift ideas for this type of exchange include books, houseplants, glassware, and collectible items.
11. Hot Potato Gift Exchange
Like musical chairs, hot potato is a familiar party game that also works well as a Christmas gift exchange game. Play hot potato, and when the music stops, the person holding the hot potato is out — except this time, they can choose a wrapped gift from the pile. 
12. Gift Wish List
This gift exchange idea is perfect for far-away family and friends. A gift wish list or shoppable gift guide will make sure that your loved ones get something they really want. Ask each member of your group to put together an online list of their perfect gifts. Then assign gift partners who will buy a small gift from the list. This is a great way to celebrate during a virtual holiday party, as you can easily have gifts shipped to the recipients through DoorDash or Amazon.
13. Festive Clothing Exchange
The holidays wouldn't be complete without an ugly sweater or two. Use your holiday gift exchange this year as the perfect opportunity to share festive hats, ties, socks, sweaters, or t-shirts with your loved ones to wear for years to come.
14. Kids' Gift Exchange
Put all the focus on the little ones this holiday season by hosting a kids' gift exchange. Encourage family members and friends to get together and host a fun scavenger hunt or a treasure hunt, where the end prize is a wrapped gift from one person to another. 
15. Trivia Game Swap
Make your Christmas party even more fun this year with a game of trivia, where a winning answer scores you a prize from the collection. Ask everyone to contribute a wrapped gift and make sure there's one for everyone, whether they know their holiday trivia or not. 
16. Under $10 Gift Exchange
If you're all on a budget or want to keep things simple, a holiday gift exchange with a $10 limit is the way to go. Set a tone so your group knows whether to buy gag gifts, cute stocking fillers, or something small yet meaningful. Send them an invite like this presents galore invitation so they know what to expect.
17. Helpful Voucher Exchange
Sometimes what we need most is someone to babysit, help declutter our home, or run errands with us. Instead of gifts this year, consider exchanging helpful vouchers with your loved ones for things they'd appreciate practical support with. This is a great gift exchange idea that's not only affordable but helps you create really unique gift experiences too.
18. Book Exchange
Many of us have a book that we've enjoyed reading and would highly recommend to others. If you and your closest loved ones enjoy reading, consider exchanging your favorite books with each other. Include a holiday greeting and a note about why you think the recipient will love it to make it an even more thoughtful gift.
Sprinkle Some Fun Into the Holidays With These Gift Exchange Ideas
Hosting a gift exchange is a great way to make your gift-giving experience more affordable, eco-friendly, and fun. Use these gift exchange ideas to help you plan a wonderful experience for your loved ones and to find some creative gift ideas. 
When it's time to let them know about your plans, use our gift exchange invitations. Our digital invites are available in a variety of festive designs, which can all be customized to suit your event. Change the layout, colors, and fonts, then add your own details and wording to get your loved ones excited about your upcoming exchange.